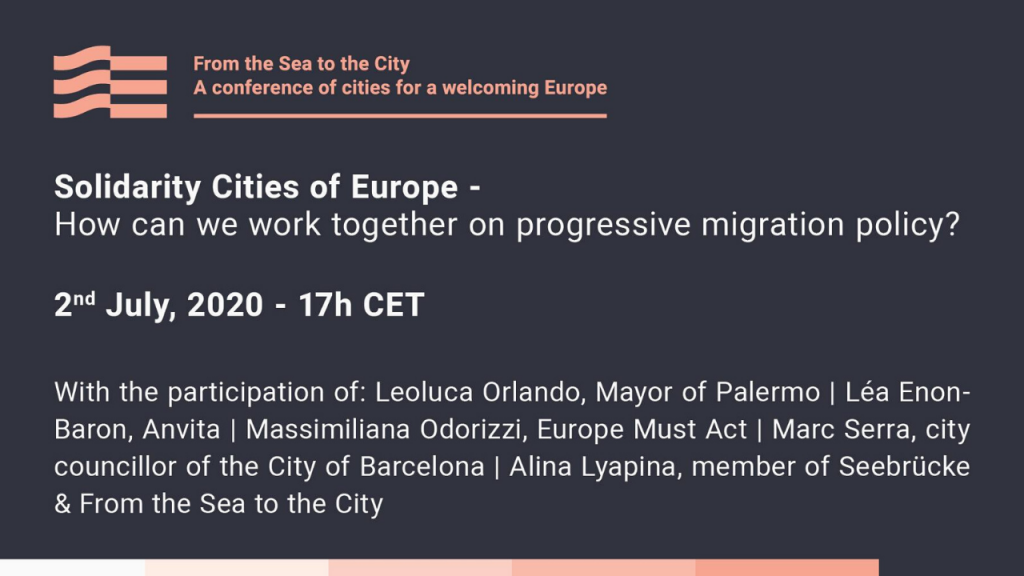 Our first virtual panel "Solidarity Cities of Europe – How Can We Work Together For a Progressive Migration Policy?" took place on 2 July 2020. Over 100 people joined the event via Zoom to tune in for the discussion between the invited guests: Massimiliana Odorizzi from Europe Must Act; the Mayor of Palermo Leoluca Orlando; Marc Serra, Director for Migration Affairs from City Council of Barcelona and Lea Enon-Baron, the representative of the French city network ANVITA.
The topic of the round table revolved around the question of how to develop a city-focused approach to migration and reception in Europe and what we can do to translate there aspirations into actual policies. The speakers touched upon what steps municipalities can take to Influence the EU decision-making process from the city perspective.
During a round of individual inputs followed by Q&A the guests exchanged their perspectives on European cooperation between grassroots initiatives and the cities. For instance, Ms. Odoorizzi from Europe Must Act, a network of civil society NGOs with local chapters in 45 cities across Europe, underlined the importance of a political alliance between the civil society and progressive city administrations. In this light, Barcelona´s example of such a strategic cooperation as part of the local SAIER program was especially interesting as it builds the core of the city´s migration policy.
At the end of the discussion the speakers agreed that such a strategic cooperation is indeed "of paramount importance" in order to be able to shape the EU debate on migration. In this respect, cities have a special role to play in migration policy: according to Mr.Orlando, they need to fight for the universal right to mobility and respect for human rights. Both city representatives emphasized possibility and necessity of a common appeal to the EU instittions, whereas Mr. Serra suggested that our common work should bring solidarity, EU funding for cities as well as the closure of detention centers into focus.